L'Alliance française de Victoria présente:

文

Le français, c'est du chinois
French is just like Chinese (to me)!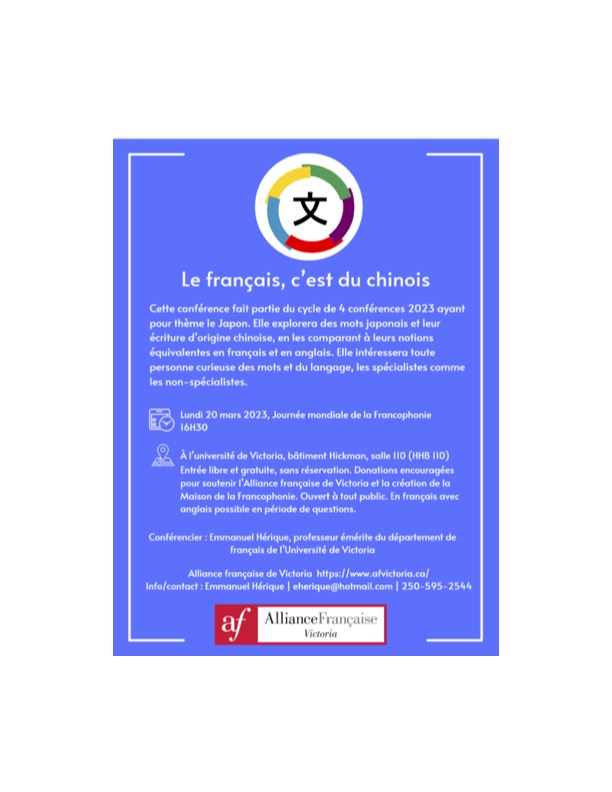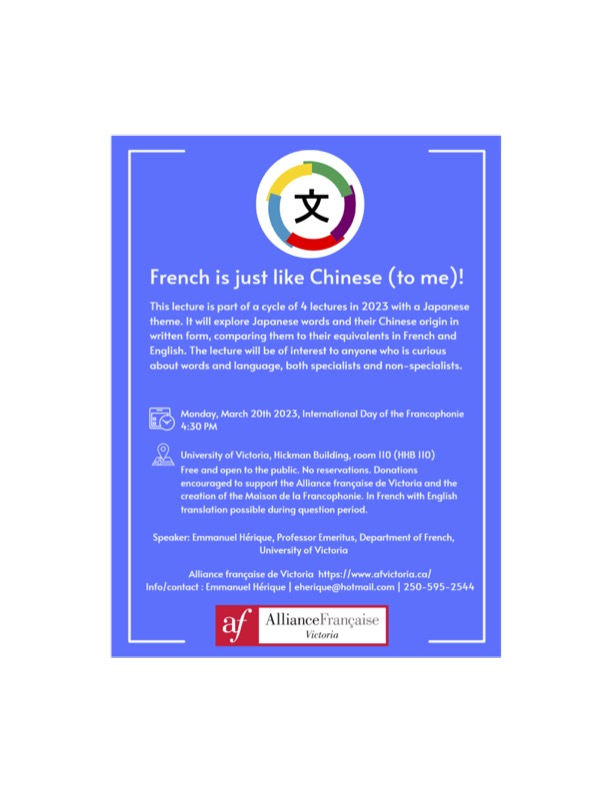 Lundi 20 mars 2023, Journée internationale de la Francophonie.
À l'université de Victoria, salle Hickman 110 - 16:30-18:00)
Voir ci-dessous pour les directions


Entrée libre et sans réservation. Ouvert à tout public.
Sur donation: 25$ encouragés, les fonds seront remis pour le projet de la Maison de Francophonie à Victoria
En français. Anglais possible en période de questions.


Description: Cherchez l'arbre dans 日本 (Japon), la main dans 侍 (samourai), et la verveine dans 歌舞伎 (kabuki) ! Vous ne trouvez pas ? Pas de problème : les mêmes mots (l'arbre, la main, la verveine) ont eu des évolutions de sens de sens similaires en français et anglais.


Cette conférence s'adresse à toute personne curieuse des mots et du langage. Elle intéressera les non-spécialistes comme les spécialistes. De nombreux autres exemples seront donnés.


Présenté par Emmanuel Hérique, professeur émérite du département de français de l'université de Victoria.


Contact: Emmanuel Hérique 250-595-2544
Monday, March 20, 2023 (International Francophonie Day).
At the University of Victoria, HHB 110 (4:30 - 6:00pm)
See below for directions


Open to the public. No reservations.
Of the $25 donation encouraged, funds will be donated to the Maison de Francophonie project in Victoria
In French with English translation possible during question period.


Description: Find the tree in 日本 (Japan), the hand in 侍 (samurai), and the twig in 歌舞伎 (kabuki). Not so easy? Not to worry, as the same words (tree, hand, twig) evolved in similar fashion in French and English.


Many other examples will be given, pointing to uncanny similarities between totally unrelated languages and cultures.


Presented by Dr. Emmanuel Hérique, Emeritus from the Department of French, University of Victoria.


Contact: Emmanuel Hérique 250-595-2544