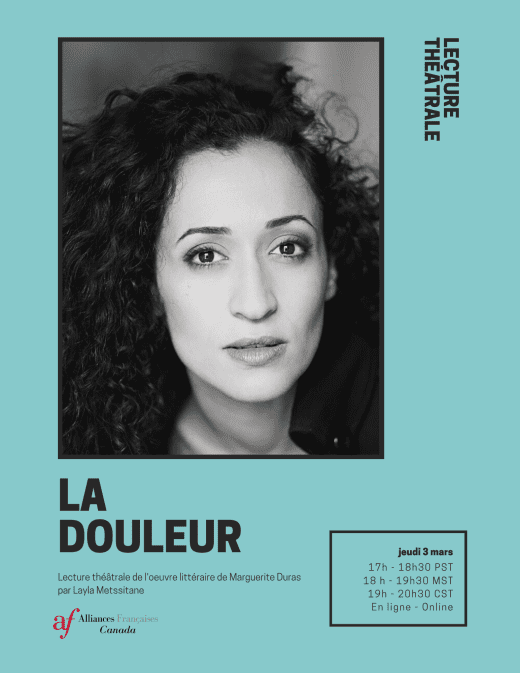 Lecture Théâtrale
| | |
| --- | --- |
| | Feb 23, 2022 4:00PM - Mar 02, 2022 4:00PM |
Lecture Theatrale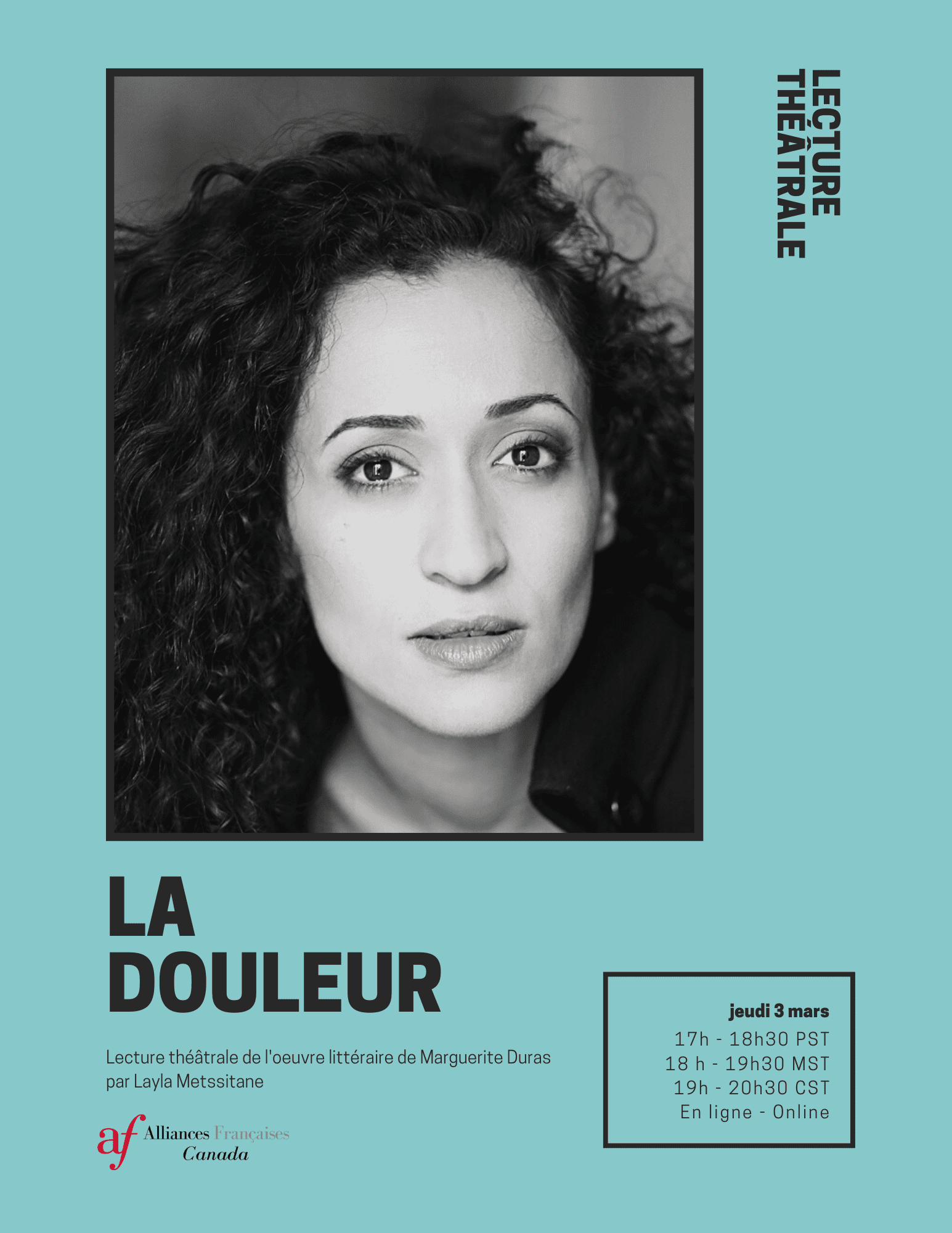 La Douleur
de Marguerite Duras par Layla Metssitane

Jeudi 3 Mars à 17h, en ligne / Thursday March 3th at 5:00pm, online
La Douleur (The Pain)
is a collection of partly autobiographical, partly invented stories, written by Marguerite Duras in 1985 (POL Editions)
The longest, "La Douleur", is the story of waiting for her husband, who was in the concentration camps for political prisoners, and the description of feelings that the Second World concentration camps and the description of feelings that the Second World War brought within the families of refugees.
The story takes place in Paris, during the Second World War. After years, Marguerite finds an old diary in which she had written her fears in which she had written her fears, her worries and her almost incessant desire to find her husband imprisoned in a concentration camp. But through the pages she reads and rediscovers at the same time, she realizes that her thoughts have changed. She tells herself that because of the waiting, when he returns, he will not be the same and that her love for him will have changed.
Source Wikipedia
Layla Metssitane
Layla Metssitane is an actress and director of Moroccan origin. When she was fifteen, she took part in her first theater workshop at the Centre Dramatique National of Dijon. Later, under the direction of various theater figures, she interpreted poetic, classical and contemporary works, such as A Midsummer Night's Dream (William Shakespeare), Le Partage de Midi (Paul Claudel), Phèdre (Jean Racine), and Antigone (Sophocles)…
In 2007, she directed a play around Aimé Césaire called Palabre en Négritude presented in Fort-de-France and then at the UNESCO. The same year, she created another play around the poetic works of Taslima Nasreen, with three actresses, in three languages (French, Arabic, and sign language). In 2010, she adapted to the stage Fear and Trembling, written by Belgian author Amélie Nothomb . This show has been on an international tour since 2012 throughout Europe, South America and now Canada.

Source : France Canada Culture

Prix : Gratuit pour les membres de l'Alliance Française de Victoria.
Free access for AF Victoria Members

10$ minimum pour les non-membres. A effectuer sur la rubrique ``Donate`` du site de l'Alliance Française de Victoria.
$10 minimum for non-members. Go on ``Donate`` page of the website

Sur inscription. Envoyer un courriel à : af@afvictoria.ca
On registration. Send an email to : af@afvictoria.ca

Un lien Zoom sera envoyé dès réception du courriel et du don pour les non-membres. Merci pour votre soutien.
A Zoom link will be sent upon receipt of the email and donation for non-members. Thank you for your support.