Le saké, boisson planétaire?
When Sake Goes Global
Conference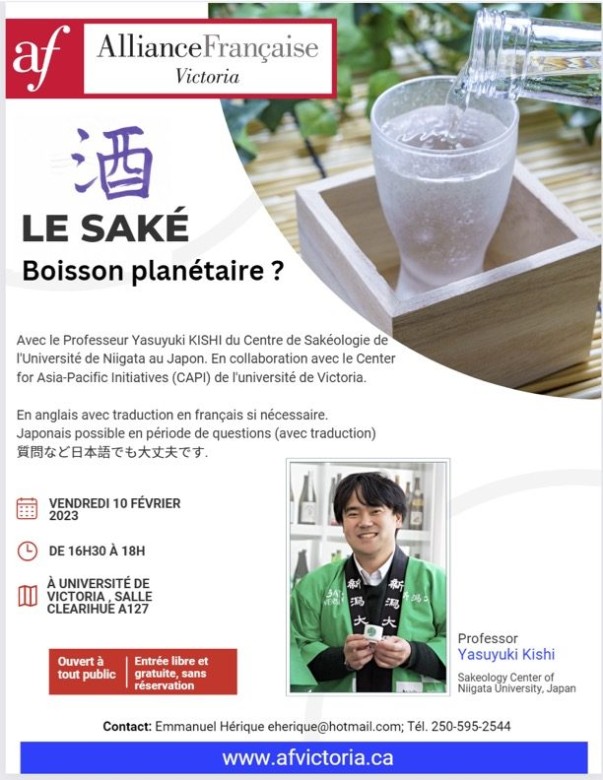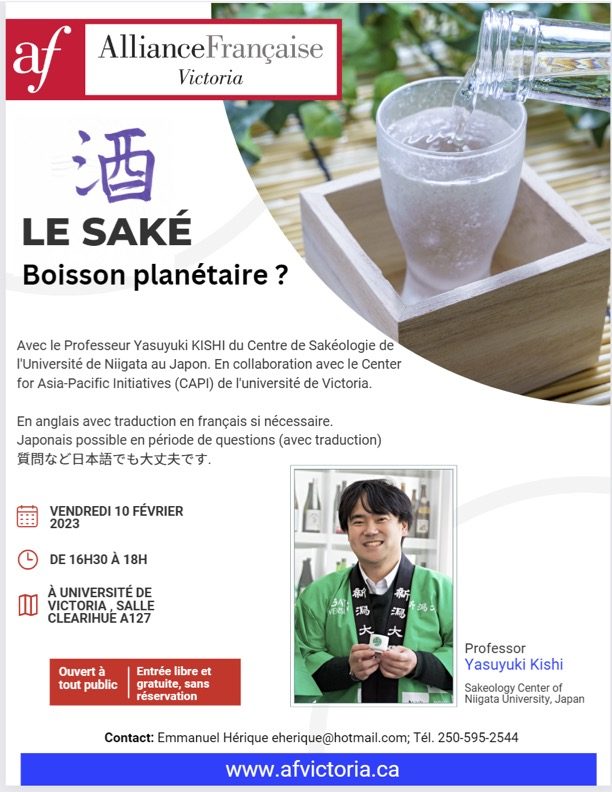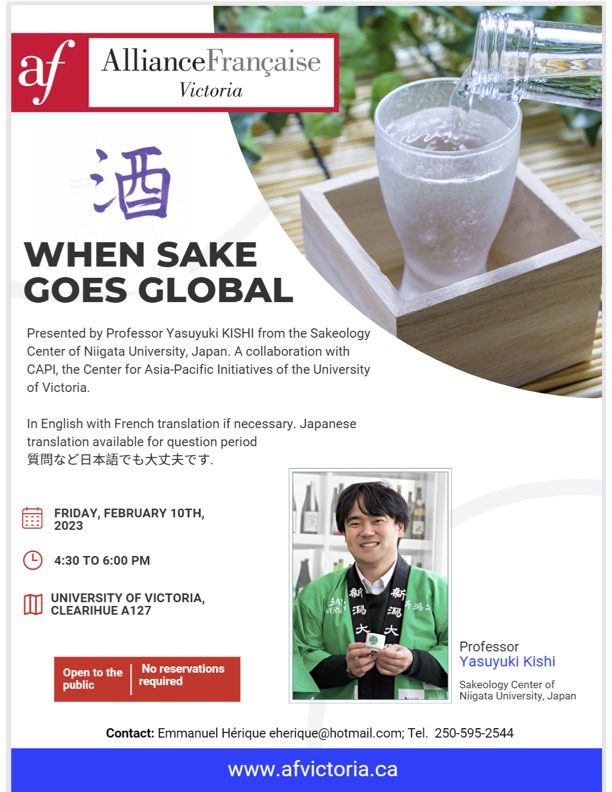 Vendredi 10 février 2023, de 16h30 à 18h à UVic, salle Clearihue A127
Entrée libre et gratuite, sans réservation. Ouvert à tout public.


L'Alliance française de Victoria invite le Professeur Yasuyuki KISHI (Centre for Asia-Pacific Initiatives de UVic) du Centre de sakéologie de l'université de Niigata au Japon. En anglais avec traduction française si nécessaire (japonais possible en période de questions).


Description: Qu'est-ce qui fait la spécificité du saké, appelé "alcool japonais" au Japon, tant dans sa fabrication que dans son importance culturelle ? Or le saké s'internationalise actuellement, et le professeur Kishi est spécialiste de cette question. Il travaille étroitement avec l'Institut des Sciences de la Vigne et du Vin (ISVV) de l'université de Bordeaux. Il répondra à toutes vos questions sur le saké.
Friday, February 10, 2023, 4:30-6:00 p.m. at UVic, CLE A127
Free and open to the public. No reservations.


Presented by the Alliance Française of Victoria, with Professor Yasuyuki KISHI (CAPI, the Centre for Asia-Pacific Initiatives at UVic), from the Sakeology Center of Niigata University in Japan. In English with French translation if necessary, and Japanese translation for question period.


Description: What makes sake ("Japanese alcohol" in Japanese) so unique in the way it is made and its cultural meaning? Sake is now becoming more globalized, and Professor Kishi specializes in this question. He works closely with the Institut des Sciences de la Vigne et du Vin (ISVV) of the University of Bordeaux. He will answer all your questions about sake.