Speak Dating
| | |
| --- | --- |
| | Mar 11, 2023 1:00PM - Mar 11, 2023 3:00PM |
Samedi 11 Mars à 13h / Saturday March 11th at 1:00 pm
Conversez en français et faites-vous de nouveaux amis en ligne à travers tout le Canada ! Nous encourageons les apprenants de tous niveaux à participer - Merci de les accueillir !

Converse in French and make new friends online through Canada ! We encourage learners of all levels to participate - Thanks for welcoming them!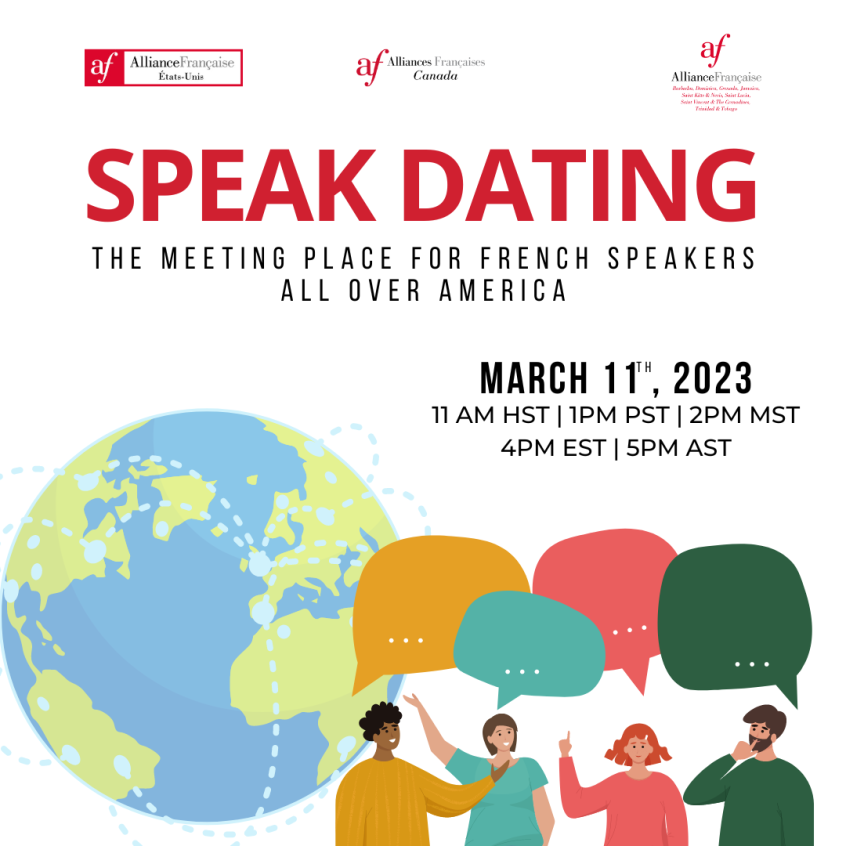 CLIQUER ICI POUR VOUS INSCRIRE
CLICK HERE TO REGISTER
Les Alliances Françaises du Canada vous donnent rendez-vous pour une nouvelle édition du speak-dating.

En partenariat avec les Alliances de Vancouver, de Calgary, d'Edmonton, de Winnipeg, de Toronto, d'Ottawa, de Manitoba, de Moncton, de Halifax.

Après l'édition du mois de la Francophonie qui a réuni plus de 80 francophones du Canada, de Colombie, du Mexique et du Nigeria, voici une nouvelle occasion de rencontrer et échanger en français.

Depuis maintenant plus d'un an, les Alliances Françaises du Canada proposent ces activités. Ce sont des rencontres virtuelles (via Zoom) et amicales en français avec des francophones et francophiles de tous niveaux inspirés du concept de Speed-Dating. En binôme, les participants échangent pendant 7 minutes, puis les paires changent et entament une autre conversation de 7 minutes. Les conversations sont libres et toujours bienveillantes. Activité ouverte à tous les niveaux de français !
The Alliances Françaises of Canada invite you to a new edition of speak-dating.

After the edition of the month of the Francophonie which brought together more than 80 Francophones from Canada, Colombia, Mexico and Nigeria, here is a new opportunity to meet and exchange in French.

For over a year now, the Alliances Françaises of Canada have been offering these activities. These are virtual meetings (via Zoom) and friendly encounters in French with Francophones and Francophiles of all levels inspired by the concept of Speed-Dating. In pairs, participants exchange for 7 minutes, then the pairs change and start another 7-minute conversation. The conversations are free and always friendly.
CLIQUER ICI POUR VOUS INSCRIRE
CLICK HERE TO REGISTER

Prochaines dates: à annoncer prochainement
Upcoming dates: to be announced soon